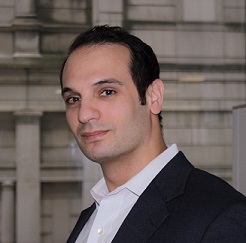 Joshua Linder is a Credit Analyst at APG Asset Management, responsible for conducting fundamental credit analysis across a range of sectors. Joshua's primary duties also include helping implement APG's Responsible Investment Policy, with a focus on ESG integration in fixed income and green bond investment strategy.
Prior to joining APG in 2017, Joshua worked at Calvert Investment Management for six years, most recently as a Portfolio Manager. In this role he was responsible for managing several equity and multi-asset funds, and developed expertise in ESG investing frameworks across asset classes. He also co-authored several white papers focused on integrating ESG factors into credit analysis and quantitative equity research processes. Before Calvert, Joshua spent two years at The D.E. Shaw Group. Joshua holds a B.S. in Industrial and Labor Relations form Cornell University and received a Master's in Public Policy from American University with a concentration in quantitative research methods. Joshua is a CFA charterholder and a member of the New York CFA Society.
Disclaimer: The biography is as of the date the speaker presented.
Event Name
ESG in Fixed Income