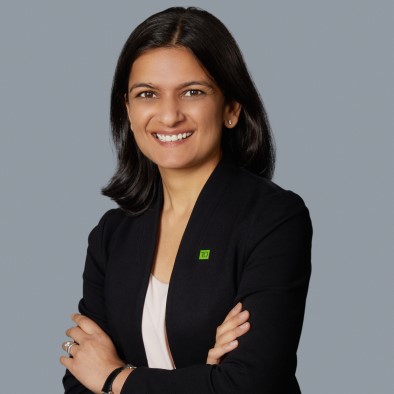 Priya Misra is head of Global Rates Strategy at TD Securities. Based in New York, Priya is responsible for the US and global interest rate markets and provides investment advice for clients. She publishes regular research on interest rates, discussing secular trends as well as trade ideas and manages a model portfolio of recommendations. Her team includes analysts in New York, Toronto, London, and Singapore.
Priya ranked in the top three for Federal Agency Debt Strategy in Institutional Investor's All-America Fixed Income Research team surveys in 2014-2021 and from 2003-2008. She also ranked in the top 10 U.S. Governments Strategy teams from 2010-2022. She represents TD at the Alternative Reference Rate Committee (ARRC) and The Treasury Market Practices Group (TMPG). Priya has been a contributor to industry textbooks and appears regularly in the media. Priya is also frequently cited in the financial press.
Priya joined TD Securities in September 2015. Prior to this, she ran US rates strategy research at BofA Merrill Lynch for 6 years. From 2001 to 2008, she worked at Lehman Brothers as an interest rate strategist, at Barclays Capital as a mortgage strategist and at Nomura Securities, where she was head of U.S. rates strategy.
Priya graduated from the Lady Sri Ram College, University of Delhi, with a bachelor's degree in economics. She has a postgraduate diploma in management, majoring in finance, from the Indian Institute of Management, Bangalore, India.
Disclaimer: The biography is as of the date the speaker presented.
Event Name
Meet the CEO of the NY Fed