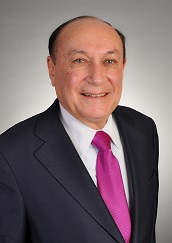 Mark R. Shenkman founded Shenkman Capital Management, Inc. III 1985, one of the first independent high yield investment managers. He serves as the firm's Chairman, President and Co-Chief Investment Officer. With 48 years of investment experience, 40 years of which have been focused on leveraged finance, he is considered one of the original pioneers of the high yield bond and loan markets. He began investing in high yield securities in 1977 as the portfolio manager of Fidelity's first high yield bond mutual fund. He established one of Wall Street's earliest departments dedicated to the research, selling and trading of high yield securities at Lehman Brothers Kuhn Loeb in New York as Vice President of the High Yield Bond Department. Prior to founding Shenkman Capital, he was President and Chief Investment Officer of First Investors Asset Management in New York, which managed the largest high yield mutual fund at the time.
He is a co-author of two textbooks on the high yield market, entitled High Yield Bonds: Market Structure, Portfolio Management and Credit Risk Modeling (McGraw Hill, 1999) and Leveraged Financial Markets (McGraw Hill, 2010).
Additionally, Mr. Shenkman is actively involved in not-for-profit and philanthropic activities, including as an Emeritus member of the Board of Directors of the University of Connecticut Foundation and former Chairman of the Board; a Board of Trustee Emeritus at The George Washington University; Vice Chairman of the Board at Wilbraham & Monson Academy since 1969; and as a Board of Advisor Emeritus at the College of William and Mary, Mason School of Business. He is currently the Treasurer of the Union League Club of New York.
Mr. Shenkman received a BA in Political Science from the University of Connecticut (1965) and an MBA from The George Washington University (1967). He served as a First Lieutenant in the U.S. Army Computers Systems Command (1967-1969). Mr. Shenkman also received a Doctor of Humane Letters, honoris causa, from the University of Connecticut (2007).