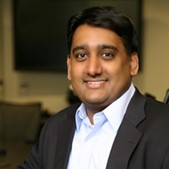 Mr. Srivastava is the co-founder, President, and Chief Investment Officer of TriplePoint Capital LLC, TriplePoint Venture Growth BDC Corp. (NYSE: TPVG) and TriplePoint Global Venture Credit, Inc. Mr. Srivastava oversees TriplePoint's day-to-day operations, as well as, investment analysis, finance, legal, account servicing, and portfolio monitoring groups. Mr. Srivastava also leads TriplePoint's international business segment.
TriplePoint Capital is a Sand Hill Road-based global financing provider to high growth venture capital-backed companies throughout their lifespan, providing customized debt financing and direct equity investments. TriplePoint provides unparalleled levels of creativity, flexibility and customer service to serve as the primary debt financing provider for leading venture capital-backed companies in the technology, life sciences and other high growth industries and is the only debt provider equipped to meet the unique needs of high growth venture-backed companies at every stage of their development. TriplePoint's portfolio of venture capital-backed companies included and/or includes widely recognized and industry-leading companies, including, among others, Facebook, YouTube, Jet.com, Beyond Meat, Crowdstrike, Dollar Shave Club, Etsy, Oncomed, Ring Central, Ruckus Wireless, Segway, Shazam, Splunk, Square, and Workday.
Prior to TriplePoint, Mr. Srivastava worked at Comdisco Ventures, where he served as the as head of the Investment and Credit Analyst team. Prior to Comdisco Ventures, Mr. Srivastava was a financial analyst in the technology investment banking group at Prudential Securities working on debt and equity financings, as well as mergers and acquisitions advisory services.
Mr. Srivastava received a Bachelor of Arts degree from Stanford University and a Master of Science degree in Operations Research from Stanford University. Mr. Srivastava is originally from Queens, New York City and attended the Bronx High School of Science.
Disclaimer: The biography is as of the date the speaker presented.
Event Name
Panel Discussion on Private Credit Markets