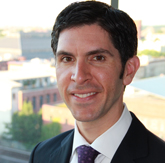 Marc oversees NatureVest as the Managing Director, The Nature Conservancy's impact investing division, which focuses on delivering measurable environmental outcomes as well as financial returns to investors. NatureVest fosters ways to invest in conservation by convening investors; developing and executing innovative financial transactions; and building an investment pipeline across multiple sectors, including agriculture, fisheries and environmental markets. Marc leads the twelve-person team that advances these activities.
Marc also directs NatureVest's knowledge and field-building efforts to demonstrate the vibrant natural capital market for impact investment. This includes presenting in conference forums, and overseeing a platform of original research and public commentary by the NatureVest team.

Prior to his role at NatureVest, Marc launched and managed the UNICEF Bridge Fund, a revolving loan fund that used impact investment to fast-track life-saving goods to children in need throughout the world. As Managing Director, Marc structured nearly $50 million in program activity and raised over $35 million in grant, loan, and program-related investment support for the fund.
Marc earned an MBA with distinction from Harvard Business School, an MPA from Harvard Kennedy School, and an AB from Harvard College where he majored in government. He has published research on affordable housing and the achievement gap in U.S. education, and has served in volunteer Board leadership roles in community development finance, professional theater, and the Episcopal Church. A New York resident, he is an active urban runner and enjoys hiking in the region and around the world.
Disclaimer: The biography is as of the date the speaker presented.
Event Name
Post Cop21: Financing a Green Future