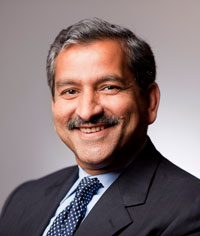 Krishna Memani serves as chief investment officer, head of fixed income and as a portfolio manager at OppenheimerFunds. He's responsible for the portfolio management of the Oppenheimer Core Bond Fund, Oppenheimer Corporate Bond Fund, Oppenheimer Global High Yield Fund, and the investment grade portion of Oppenheimer Global Strategic Income Fund. He is also a portfolio manager on Oppenheimer Capital Income Fund. Prior to joining OppenheimerFunds in 2009, Krishna was a managing director and head of the U.S. and European Credit Analyst Team at Deutsche Bank, where he analyzed and communicated trends impacting the U.S. credit markets and sectors within the credit markets. Before his role at Deutsche Bank, Krishna was the chief credit strategist at Credit Suisse where he managed a global team of 60 analysts and developed and marketed Credit Suisse's flagship quantitative debt/equity arbitrage tool.
Prior to that he served as a managing director and senior portfolio manager at Putnam Investments where he oversaw the high grade and high yield portfolios. He was instrumental in implementing a new investment process that led to strong relative performance. He also worked at other financial firms including Morgan Stanley and Price Waterhouse Coopers.
In total, he has 30 years of experience of successfully researching and managing investment grade fixed income assets and engineering new investment processes that have led to strong investment performance. Krishna received a Bachelor of engineering from the Birla Institute of Technology and Science, an M.A. in economics with a focus on econometrics from the University of Florida and an M.B.A. in finance from the University of Florida.
Disclaimer: The biography is as of the date the speaker presented.
Event Name
Oppenheimer Funds: Valuable Insights on Trends and Deep Market Analysis