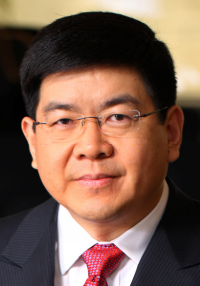 Dr. Huang is Chief Strategist, Managing Director, Executive Chairman of Research Committee and Co-Head of Research Department at The China International Capital Corporation (CICC).
He has over eighteen-year experiences in conducting research at market, policy and academic institutions, and serving clients in the financial industry. Before joining CICC, he was head of Greater China research at Barclays Capital from 2005 to 2007. From 1998 to 2005, he was an economist/senior economist at the International Monetary Fund's (IMF) Monetary and Exchange Affairs, European and Research Departments. Before that he taught and conducted research at The Chinese University of Hong Kong and The London School of Economics.
He has over twenty publications in leading international academic and policy journals, including the American Economic Review, China Economic Review, European Economic Review, Journal of International Economics, Journal of Money and Banking, Journal of Monetary Economics, as well as numerous publications in leading Chinese academic and policy journals.
Mr. Huang holds a Ph.D degree in business from Indiana University, USA, and a master and bachelor degrees, both in engineering, from China. He is a Fellow of China Finance 40 Forum (CF40) as well as a Vice President of The China Society of World Economics.
About CICC
China International Capital Corporation Limited ("CICC") was founded as a strategic partnership of prestigious domestic and international financial institutions in China. CICC is headquartered in Beijing with subsidiaries in Hong Kong, Singapore, UK and USA, branch office in Shanghai and 16 retail brokerage branches in major cities as Beijing, Guangzhou, Hangzhou, Nanjing, Shanghai and Shenzhen. We are committed to delivering comprehensive capital market solutions and adding value to clients.
As a China-based International investment bank, CICC has, over the years, built up a comprehensive knowledge base on China's legal, regulatory, economic, cultural, business and market environment. By capitalizing on our knowledge and working closely with clients, we have achieved numerous milestones for transactions in telecommunications, power, transportation, oil and gas, petrochemicals, metals and mining and financial services. We have thus acquired strong industry expertise across many key sectors, allowing us to deliver sound capital market solutions to our clients in the ever-changing Chinese marketplace. CICC has strong expertise in domestic and overseas equity underwriting, securities brokerage, asset management, fixed income and market research.
We are known for our "strong research capability, professional sales and trading and prudent risk control mechanism" in serving fund management companies, insurers, QFII and conglomerates. In 2004, CICC was named a pilot securities firm in terms of innovation and awarded from 2007 to 2010 an AA securities firm in the category A in accordance with guidelines for regulations of classification of securities firms. In 2007, CICC initiated new business activities including retail breakage, private equity and QDII.
CICC has talents from both domestic and international markets, and has developed a professional team with high standard professionalism, innovation, outstanding execution capability and experiences.
Disclaimer: The biography is as of the date the speaker presented.
Event Name
Chinese Economic Fundamentals and Their Impact on US Fixed Income