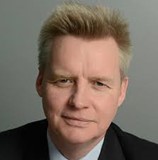 Michael Ridley is the Head of Fixed Income ESG and Climate Research at MSCI, where he leads a team of financial analysts, climate scientists and data engineers to help fixed income clients integrate ESG, net zero, physical risk and impact into their portfolio construction.
Prior to MSCI, Michael was a Senior Responsible Investment Specialist at HSBC Asset Management, where he led on green bonds, sustainable infrastructure and biodiversity. He served as the Global Head of ESG Fixed Income Research at HSBC from 2015 to 2020, where he led research on green bonds and ESG integration. Michael was twice voted no. 2 green bond analyst in the Euromoney global fixed income research poll.
Michael has also held senior credit research roles for Citigroup and for Mizuho International, covering the utility, energy and mining sectors. He worked as a consultant to the UK's Carbon Trust and the German government development agency GiZ.
Michael holds a PhD in Environmental Economics from University College London and Master's degrees from Yale University and the London School of Economics. Michael is a published author on sustainable finance and has lectured on this topic at the Cambridge University Judge Business school.
Disclaimer: The biography is as of the date the speaker presented.
Event Name
Sustainable Finance in Fixed Income -- 2023