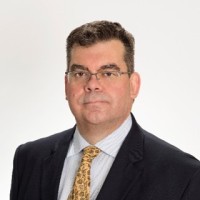 Trevor d'Olier-Lees is a Senior Director at S&P Global Infrastructure Ratings. Areas of analytical leadership include:
New analytical developments such as project finance securitization, emerging markets, bundling of assets and credit enhancements
Infrastructure as an Asset Class
Public Private Partnerships
Renewables
Thought leadership articles Trevor has authored include: "Outlook For North America Engineering & Construction And Implications For P3 And Muni Infrastructure, April 7 2022", "Industry Report Card: Solar and Wind-Powered Renewables, March 8, 2022", "House Views: S&P Global Ratings Analysts Discuss The Biden Administration's Infrastructure Plan, Oct 27 2021", "C-Suite Perceptions Of The Changing Public-Private Partnership Landscape, Oct 27 2021", "Why Design Build Contracts Can Be A Double-Edged Sword For U.S./Canadian P3 Projects, May 17, 2021", "Ten Roads, Ten Routes Ahead, April 7, 2021" "Ten Roads, Ten Different Stories, April 7, 2021", "The Effect of COVID-19 Economic Recovery Policies, Sept 24, 2020", "The Outlook For Power Markets In The Age Of COVID-19, Jun 25, 2020", "Coronavirus Travel Restrictions Cut Cash Flow Of U.S. And Canadian Project Financed Roads, Apr 14, 2020", "Renewable Energy Matures With Blossoming Complexity, November 8, 2019", "Why The Transportation Sector Is On A Fast Track To Get Greener, May 10, 2019"; "Emerging Markets Have Hope For Sustainable Infrastructure Projects, Roundtable Participants Say, May 7, 2019"; "How Will The PG&E Bankruptcy Play Out For Suppliers, Lenders?, April 9, 2019"; "Relevant Measures Of Insurer Creditworthiness When A Transaction Relies On Credit Enhancement Or Collateral Support, Jan 14, 2019"; "1995-2016 Global Bank Loan Unrated Project Finance Default And Recovery Report November 20, 2018"; It's Time For A Change: The Role Of Credit Enhancement In Mobilizing Private Investment In Infrastructure, September 28, 2018"; "Rated Global Infrastructure Displays Strong Credit Quality and Low Risk, April 17, 2018".
Trevor holds a bachelor's degree in Chemical Engineering from University College, Swansea, U.K. and a master of business administration degree from Manchester Business School, U.K.
Disclaimer: The biography is as of the date the speaker presented.
Event Name
ESG in Fixed Income | Policy Actions and Practical Investing Post COP 26