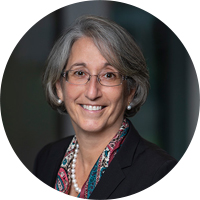 Barbara G. Novick was a co-founder of BlackRock in 1988; Ms. Novick transitioned from Vice Chairman to Senior Advisor as of February 2021.
From the inception of the firm in 1988 to 2008, Ms. Novick headed the Global Client Group and oversaw global business development, marketing and client service across equity, fixed income, liquidity, alternative investment and real estate products for institutional and individual investors and their intermediaries worldwide. In 2009, Ms. Novick established BlackRock's Global Public Policy Group to provide a voice for investors; from 2018 to 2020, she additionally oversaw BlackRock's Investment Stewardship team. Ms. Novick has authored numerous articles on asset management and public policy issues.
Ms. Novick serves on the Peterson Institute for International Economics Board, 100 Women in Finance Board, Center for Financial Stability Advisory Board, Committee on Capital Markets Regulation, and the Millstein Center for Global Markets and Corporate Ownership Advisory Board. Ms. Novick previously served on the boards of Cornell University (2012 - 2020) and the Investment Company Institute (2015 - 2021) and served as both Treasurer and Trustee of Westchester Jewish Center (1994 - 2012) and coached in the Westchester Youth Soccer League (1999 - 2015).
Ms. Novick earned a BA degree, cum laude, in economics from Cornell University.
Disclaimer: The biography is as of the date the speaker presented.
Event Name
Women in Fixed Income 2022