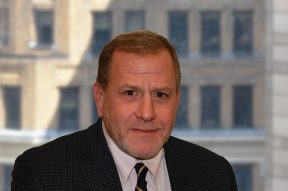 Wayne D. Godlin, Managing Director, is a member of the Global Fixed Income, Currency & Commodities (GFICC) Group. Based in New York, Wayne is a senior portfolio manager for the Tax Aware Strategies team and focuses on high yield municipals. Wayne has over thirty years of municipal bond market experience in both credit analysis and portfolio management, with a focus on analyzing and managing high yield municipal bond portfolios.
Wayne was a Senior Portfolio Manager and a member of the Investment Policy Committee at AllianceBernstein Asset Management. Previous roles also included portfolio management and credit research at Morgan Stanley Investment Management and its acquired firm, Van Kampen Funds. Under Wayne's management, Van Kampen High Yield Muni Fund won "Top Performing Fund of the Decade" from Morningstar in 2000.
Wayne's experience and expertise in the high yield municipal space also informed the chapter he co-authored in Fabozzi's The Handbook of Municipal Bonds titled "Managing a High Yield Municipal Fund". Wayne holds a B.A. in political science from Union College and an Masters in public administration from Columbia University
Disclaimer: The biography is as of the date the speaker presented.
Event Name
Virtual Muni ESG Panel