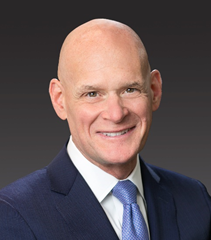 Randy Schwimmer | Senior Managing Director | Co-Head of Senior Lending | Churchill Asset Management LLC
Founder/Publisher | The Lead Left LLC
Randy Schwimmer is Senior Managing Director and Co-Head of Senior Lending at Churchill Asset Management LLC. Churchill is a credit asset management firm that provides senior debt to middle market companies. It is affiliated with Nuveen, the asset management division of TIAA and one of the largest global asset managers across multiple asset classes.
Mr. Schwimmer is also founder/publisher of The Lead Left, Churchill's weekly newsletter. The Lead Left reviews deals and trends in the capital markets with a unique focus on the mid-market space and is read by thousands of influential industry participants.
Mr. Schwimmer brings 30 years of experience in middle market finance to Churchill, and is widely credited with developing loan syndications for middle market companies. He was a founding partner and Head of Capital Markets at Churchill Financial LLC, a middle market finance company acquired by The Carlyle Group. At Carlyle, he was a Managing Director responsible for all middle market loan capital markets activities, including loan structuring, syndications and distribution within the Carlyle GMS team.
Before then, Mr. Schwimmer was Managing Director and Head of Leveraged Finance Syndication for BNP Paribas. He spent 15 years at JP Morgan Chase in Corporate Banking and Loan Syndications, where he originated, structured, and syndicated leveraged loans.
Mr. Schwimmer graduated cum laude from Trinity College with a B.A. He earned his M.A. from the University of Chicago.
Disclaimer: The biography is as of the date the speaker presented.
Event Name
Outstanding Investor Series - Private Debt