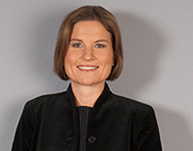 Monica Erickson, CFA, Portfolio Manager, Head of Investment Grade Corporate Credit, DoubleLine
Ms. Erickson joined DoubleLine's Global Developed Credit Group in 2009. She is Head of Investment Grade within the group and participates in DoubleLine's Fixed Income Asset Allocation committee. Prior to DoubleLine, Ms. Erickson was a Vice President in the Corporate Bond group at TCW where she was involved in the management of the Firm's corporate credit fixed income and structured products.
Previous to TCW, she was a Vice President at Froley, Revy Investment Company for over 15 years, active in managing several convertible strategies. Ms. Erickson holds a BS in Business, summa cum laude from the University of Southern California.
She is a CFA charterholder, a past board member of CFA Society of Los Angeles, and the current chair of the Charter Recognition committee for the CFA Society of Los Angeles. She is also on the Educational Committee of 100 Women in Finance.
Disclaimer: The biography is as of the date the speaker presented.
Event Name
2020 Women in Fixed Income - Asset Class Specifics Panel