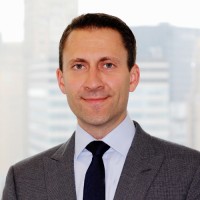 Steven Nichols, Head of ESG Capital Markets, Americas
Steven Nichols has primary responsibility for Bank of America Merrill Lynch's ESG Capital Markets business in the Americas. He provides advice on communications such as IR materials and sustainability reports through an ESG investor lens, as well as structuring advice on ESG-themed capital raises. This work spans pre-IPO companies, IPO offerings, equity and equity-linked securities, and traditional debt offerings and sectors from electric utilities to consumer & retail to industrials.
Steven is a voting member of the ICMA Green and Social Bond Principles Executive Committee (ExCom), where he represents Bank of America's interests on the board that sets the standards for the global ESG-themed capital markets. He further represents Bank of America on the newly established Working Group of the ExCom dedicated to studying the potential need for guidelines for Sustainability Linked Bonds (sometimes known as SDG-Linked Bonds).
Prior to joining BAML, Steven spent over 10 years in Southern Company's Treasury, where he was a pioneer in the corporate Green Bond Market. He executed $3.5 billion in Green Bonds, including the first by a US IG Power Company, the first by a US regulated utility, and the first Euro green bond by any US Corporate issuer. Steven holds a B.S. in Finance from Georgia Tech and an MBA from Chicago Booth.
Disclaimer: The biography is as of the date the speaker presented.
Event Name
Panel Discussion: Green Bonds continue to evolve as social bonds gain traction