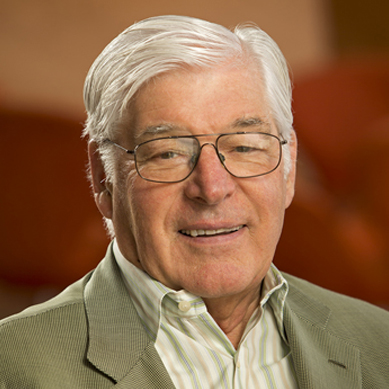 Throughout his long career John "Mac" McQuown has been involved with many entrepreneurial endeavors. Notable among these are the following:
Dimensional Fund Advisors, Austin TX, co-founder and Director, 1981-- present: created "second generation passively managed" equity funds, including the first small-cap and value equity investment strategies via registered mutual funds. These funds, and separate accounts, invest in over 20 thousand equities domiciled in over 30 nations; proprietary distribution through fee-only independent advisors in U.S., Canada, U.K., Europe, Chile, Australia, Singapore, Hong Kong, and Japan. Asset under management (summer of 2017): $518 billion.
Diversified Credit Investments, San Francisco, co-founder and Director, 2004 – present: investment manager of "super-diversified high Sharpe ratio" portfolios of corporate credit risk for major financial institutions around the globe, utilizing analytics evolved from options pricing and modern portfolio theories.
Stone Edge Farm Estate Vineyards and Winery, Carriger Road, Sonoma, CA, Co-founded with wife Leslie in 1995: grower and vintner of organically farmed Bordeaux-styled red table wines, olive oil, heirloom vegetables. Includes Silver Cloud Vineyard, and "private" restaurant, EDGE, in downtown Sonoma for wine-clientelle.
Visa Advisors (including dba eBond Advisors), New York City: co-founder and director 2010 to present: Devised a new form of corporate bond that incorporates the right (but not the obligation) of any investor in the bond to "exchange" the bond for a default-free bond of the same issuer and maturity when combined with a centrally-cleared Credit Default Swap, with markets made in the exchanged bond as well. New bond expected to reach the market in 2017.
KMV, San Francisco, co-founder and Chairman, 1989 – 2003: strategy, marketing, client service of firm providing corporate credit analytics to global financial institutions via the internet, that entailed proprietary extensions of options pricing theory and portfolio theory. Firm was sold to Moody's in 2002.
Loan Performance (formerly Mortgage Information Co.), San Francisco, co-founder and Director 1988 – 2005: aggregated comprehensive data on consumer mortgage loans from originating and servicing financial institutions in the US, and in turn provided the data via the internet with analytics to several hundred mortgage market participants; by 2005 provided information derived from over 40 million individual mortgages in the monthly updated data base. Firm sold to First American in 2005.
Charles Schwab, San Francisco, Consultant 1988 – 1990: in conjunction with Dimensional Fund Advisors created Schwab 1000 index, and related index funds.
Wells Fargo Bank, San Francisco, founder and Director of Management Sciences Group, 1964 – 1974: internal "think tank" reporting to CEO. Overall responsibility for creating the world's first equity index funds; immersed in the measurement of corporate credit risk; researched economics and strategies for retail distribution of financial services. Co-founder and first Chairman of Wells Fargo Investment Advisors that became Barclays Global Investors, which was sold to BlackRock.
Pro bono:
Advisory Council, Scripps Institution of Oceanography at UCSD;
Advisory Council, University of Chicago Booth School of Business; Director,
TRAC II (institute for citizens diplomacy) affiliate of Esalen Institute, Big Sur, CA.
Education:
Harvard Business School, MBA Finance, 1961
U. S. Naval Officer, Chief Engineer USS Wiltsie (DD 716), 1957-59
Northwestern University, BS Mechanical Engineering, 1957