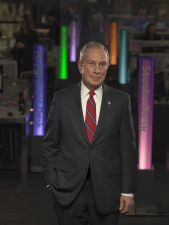 Founder of Bloomberg LP and three-term mayor of New York City
Michael R. Bloomberg is an entrepreneur and philanthropist who served as mayor of New York City from 2002 through 2013. In 1981, he launched a technology startup to provide real-time data and analysis to the financial services industry. Bloomberg LP has since grown into a global company that has offices in 73 countries, employing 16,000 people and serving 320,000 subscribers.
The spirit of innovation and entrepreneurship that led Bloomberg to found the company has led to its repeated expansion in new directions. In 1990, Mike launched a news division that has steadily grown and today covers the world and produces more than 5,000 daily stories.
As a philanthropist, Mike Bloomberg has given away more than $3.3 billion. His foundation, Bloomberg Philanthropies, employs a unique data-driven approach to its five main focus areas: public health, education, the environment, the arts, and government innovation. Bloomberg also leads a number of bi-partisan coalitions that are taking action on urgent national issues, including illegal guns, immigration reform, infrastructure investment, and climate change. In 2014, Bloomberg was appointed to be a U.N. Special Envoy for Cities and Climate Change.
Bloomberg was elected mayor of New York City less than two months after the attacks of September 11, 2001. Under his leadership, the city rebounded faster and stronger than expected. His administration cut crime by 32 percent, raised high school graduation rates by 40 percent, reduced the city's carbon footprint by 19 percent and increased life expectancy by three years. His economic policies, which supported entrepreneurs, small businesses, and emerging industries such as tech and bioscience, all helped led to create a record number of jobs.
Bloomberg graduated from The Johns Hopkins University and Harvard Business School.